Are You Tired Of Trying To Heal Your Anxiety Alone, Stuck In A Cycle Of Your Excuses Why You Can't?
Get real answers from a Holistic Practitioner through private testing and in-depth mental, emotional and habitual growth from a Certified Lifestyle & Cognitive Behavioural  Coach
Did you know that over 6.8 Million adults struggle with diagnosed anxiety disorders, and that according to recent holistic studies 90% of these issues can be healed through gut health repair and personal awareness development
Learn how you can begin the journey of over coming your anxiety and personal struggles hindering you from living your best life HEALED
Learn More
THERE IS HOPE
You Can Heal For Good
Learn the formula uncovering who you are beyond your anxiety, fatigue, physical aliments and more...
Uncover whats actually happening internally
Heal your physical body through private testing and a customized protocol
Transform your overwhelm to experiencing the joy in your life
Create a balanced lifestyle that is not riddled with anxiety and fear
Live free of your intrusive thoughts, pain of your past and health suffering.
Yes, It Really Is Possible!
Dr. Jacque Moser and Rylee June have come together to create a cutting edge experience so you can say bye-bye to over night energy fixes and cad diets, and take a holistic approach to your health sustaining positive changes for life.
We don't believe in fad diets and restrictive habits, we want you to know how to live your life freely and sustainably with a refreshed mind, body and soul.
In The Next 8-10 Months, You Could…
Finally feel good in your body
Be able to focus, sleep, and be at peace with yourself and life
Know who you are without all the challenges and struggles mentally, emotionally and physically weighing you down.
Committing to your health is the root of your freedom.
We don't believe in "over night" solutions but do believe in creating long term lasting results and sustainable growth that don't require you to invest in decades worth of more programs and containers.
We are committed to helping you just know and understand YOU without all the fluff.
INTRODUCING
Freedom
The Holistic Healing Experience 1:1 with Rylee June & Dr. Jacque Moser Exclusively
You Are Ready To Take Control & Unlock Your Anxious Free Future?
This is an 8 month protocol experience for the person who is committed to their long term results, ready to change their life and no longer live with anxiety You'll learn how to:
- Be healthy with a plan of action for your future
-Have healthy coping mechanism to support you in future challenges

-Have the mental freedom of the weight of guilt, shame and/or pain from your past

-Create healthy relationships with natural boundaries

- Build habits that re-enforce positive behaviours that allow you to accomplish goals and live your life without struggling with your health; mind, body and spiritual practices.
With a simple shift in your mindset and private testing to address your root causes you can live your no longer held down by the anxiety that has stolen to much time from you already.
The Freedom Experience Is For You If...
You are willing to do what it takes to get your body, mind and spirit on the right track
Willing to move through uncovering the beliefs and habits holding you back
You struggle with inflammation, fertility challenges, restless sleep, brain fog, lack of focus, joint pain, emotional distress, lack of vision/ purpose; Anxiety of any kind
You dream of being that woman who is in control of her life and health
To be confident in who you are, feeling better in your skin.
YES, I WANT IN!
If you're ready to finally get the support to heal from Anxiety holistically with a team of specialists that are here to listen and help you!


Now's the time to jump in and radically change your life for the better.

We are only taking on a limited amount of clients in this 8 month dual container.
But we will have additional ways to support you based on what YOU need!

Here are the 4 Phases you will be taken through in this experience
This is for you if you struggle with
- Chronic illness
- Navigating pregnancy (getting pregnant, during pregnancy, postpartum)
- Navigating anxiety/ depression and ready to take a holistic approach to healing
- Feeling stuck, overwhelmed and burnt out with your current lifestyle
If you are no longer available for half assed results, guess dieting, uncooperative specialists helping you, and continuing the same cycles of self sabotage..

Look no further,
We cannot wait to link arms with you and support you in thriving in your life.

Mama's are being coerced into over medicating and numbing out in their lives, and Dr. Jacque and I both know that you don't have to live that life, that your healing naturally is beyond possible for you,

It's time for you to choose that healed life.
Book Your 15 Minute Free Consult
We are committed top seeing you get well,
Which means our doors are always open if you have questions and are not sure where to begin!
What Is The Commitment To This Program
What Is The Financial Commitment
INTRODUCING
Anxious Free Mama Mastermind & Retreat
The Mastermind Experience For the Woman who is ready to come together and receive healing, sisterhood friendships and exit no longer needing to heal
Your anxious free future awaits you.
This is an a 10 month experience designed to bring the best of counsellors, holistic practitioners, financial specialists, behaviour and accountability consultants and community to your pocket.
you'll learn how to:
- Challenge the thoughts of the enemy and discern the voice of God & The Enemy
-Develop healthy coping strategies to lead with awareness, confidence and faith the conquer future anxious challenges

-Create life long mental, emotional and physical healing without needing more "work, consultants, and coaching"

-Create healthy relationships with natural boundaries

- Build habits that re-enforce positive behaviours that allow you to accomplish goals and live your life without struggling with your health; mind, body and spiritual practices.
-Finally know whats going on in your body through private testing so you can take all the guess work out of your inflammation, fatigue, brain fog, and emotional over reactions
With a community we get to the root cause of your anxiety
The AFM Mastermind & Retreat Is For You If...
You are tired of your own excuses and ready to stay accountable to healing and growth along side others; You Don't Have To Do This Alone!
You are ready to take the guess work out of your healing and desire to surround yourself with experts who are going to help you transform your mind, body, and habits!
You struggle with inflammation, fertility challenges, restless sleep, brain fog, lack of focus, joint pain, emotional distress, lack of vision/ purpose; Physical ailments that will be addressed with our specialist Dr. Jacque Moser
You dream of being that woman who is in control of her life and health without big Pharma intervening 
Desire to be confident in who you are, feeling better in your skin.
No longer available to invest in MLM products and devices that promise you the world, yet you aren't any further ahead.
Have been awaiting the opportunity for a luxury experience like our in person retreat (Nov 20-23)
Are not only ready to heal from your anxiety, but are courageously ready to be apart of the #ICAN movement that will one day hit the supreme courts being proof that anxiety healing doesn't require pharmaceuticals 
You are done with your own BS reason why you can't right now and choosing to rise and invest in your future that welcomes the birth of a new faith-filled you on the other side of 10 months
Believe in Jesus or have been christ curious and are encouraged to give your heart, mind and spirit back to God
Desire to understand your purpose without all the New Age Demonic Fluff and willingly will unpack where you are to welcome the understanding of what destiny God has planned for you
I'm Ready To Secure My Spot!
This isn't just another healing mastermind  that plugs you into mindset work for 10 months..


This is a commitment within a community that exposes your deepest fears, memories, layers and levels of self unknowing. 

The spaces, things, and places the enemy is holding over you keeping you from losing the weight, taking care of you, holding you in physical, mental and emotional suffering. Where the enemy is working in your life and self to disconnect you from Jesus and keep you in your highly emotional and over reactive ways.
This is a 10 month commitment where you are surrounded with faith, and experts that will cover inner child healing, faith led development, financial discipline, physical testing and consulting to keep you on track, woman digging deep and transforming their lives along side you. 


These next 10 months can be the greatest gift you invest in that give yourself, family and future the best version of you without needing decades more of MLM subscriptions, personal development books, coaching containers and more...

Because you will finally KNOW YOU.
This is NOT for you if:
- You would rather living uncomfortable right where you are
-You don't want answers as to why you feel so tired, anxious, sore, bloated and struggling mentally
-You don't need to be surrounded with more positive woman who genuinely just want to see you thrive, but are always willing to lead with pray and honesty (we don't want to just inflate your ego, we all want to see you grow)
-You are not ready to put in the WORK

-Are not willing to make the changes necessary to heal your self and life
-Would rather invest thousands more into taking products and reading more books that have hardly helped as it is
-Would rather rely on demonic practices to hopefully provide you with all the answers without you having to lift a finger
-You are willing to settle with just being anxious because at least you know what its like. why change?
If you are no longer available for half assed results, guess dieting, uncooperative specialists helping you, and continuing the same cycles of self sabotage..

This community is designed to ensure your success and growth in your healing

Risk Guarantee
If after 10 months you are still finding you are challenged with anxiety,
I Rylee June will personally work with you for an additional 6 months 1:1 and cover additional testing to ensure your results
The nitty gritty break down
There will be 2 group calls per month.
The 1st at the beginning of the month that will be a group counselling and intention setting to set up your month for success

The 2nd at the end of the month featuring a special guest hand selected to bring deeper insight and development to your healing
You will also have unlimited access to calls with Rylee June each month for 1:1 support
1 Test, consult and nutrition and supplements plan based on your testing results with Dr. Jacque Moser (a VIP version available with more hands on holistic body support)
An in person retreat that includes ride to and from airport, all meals and needs during the luxury stay included (flights not included)
Intimate community voxer chat for the woman in the mastermind to connect and support each other
Google drive access to all the calls with individual folders for personal access only to your 1:1 calls
A gift box sent out on our kick off date August 15th! 


Immediate access to Rylee's 2 signature programs for you to dive in and get started on your healing today
(Revived & Intuition Immersion)



 We start August 15th 2023

There is ONLY 11 Spots available to ensure the support and results of the woman in this container are met and reached.


Value $17,000

Secure your spots before June 30th & save $2,000 off the investment.
-Payment plans available
Join The Waitlist
Be The First To Be Notified When We Open Enrolment For The Mastermind & Retreat Experience
Additional Potent Anxiety Healing Options For You
Heal Your Anxiety With Rylee June Through Innerchild healing, subconscious reprogramming, behavioural transformation and a Christ led focus forward for long term transformation.
Breakthrough Session
A 60 minute life assessment and anxiety coaching session.
During this session we will pull apart all areas of your life to get to the root belief from which you are operating from that is causing your anxiety.
Together we will make a plan of action suited to you to support you with conquering your anxiety over the next 90 days
Book Your Session Here
Risen - Breakthrough Session
A 90 minute hypnosis into your subconscious to pull apart the anxiety you are facing. 
Together we will bring to your awareness the blindspots you are not seeing that are holding you back and create a plan of action that is tailored to your life to support you in getting back on track in the next 90 days
Book Your Session Here
Your 5 Week KickStarter Experience To Find You Beyond Motherhood
 This experience is about uncovering who you are beyond the messy buns, husbands sweat pants and mismanaged schedules filled with laundry, meal times and kids activities.
It's time to step up into who God is calling you to be as a woman and a mama in this season of your journey in motherhood.
Register Here
Join The Waitlist
Early access to waitlist members only, extra bonus's and savings!!

Program Opens August 7th
Revived
A 14 day experience that supports you in uncovering WHAT is causing your your mental and emotional anxiety overwhelm.

This 14 day experience is rooted in self discovery, past recovery and emotional stability integrated with biblical support and wisdom.

This is a self led program solely with Rylee June
Join The Program
NICE TO MEET YOU
I'm Rylee June
Rylee June's journey began as a psychic healer, she came to quickly learn that at the root of all the guidance her clients were seeking, anxiety and lack of self awareness was their greatest issue.
Rylee became certified in Cognitive Behavioural Therapy, Emotional Crisis Management & Life Coaching and began integrating this into her practice, only to watch her clients go from seeking guidance to taking charge of their own past and present day lives.  


Rylee has healed her anxiety that began postpartum with her baby #2 (now mom of 4!) and anxiety she's lived with surrounding money, relationships, communication and self shame her whole life up until applying the same thing she has walked 1000+ clients in over half of a decade that she's been serving woman to heal and rise.
She uses what shes learned to help people just like you over come their anxiety and stand in their power, free from the self doubt, blame, guilt and overwhelm. I'll show you how to kiss anxiety goodbye for good too.
I grew confident in myself. I built a healthier relationship with money and realized there is no limit on the amount of dreams & desires in this life.
-

Kirsta B
NICE TO MEET YOU
I'm Dr. Jacque Moser
Doc Jacque is passionate about his work because much of it was born out of his own experiences.
From a near-death experience that landed him in the hospital for three days, to low testosterone and irritable bowel, to fertility issues in his marriage, to debilitating back pain and migraine headaches caused by mold toxicity, he has experienced many illnesses he helps his patient's heal from.
Dr. Jacque is a Naturopathic health expert, doctor of chiropractic, speaker and mentor to doctors.

He specializes in working with patients who are struggling with Infertility, Gut Health, and Mold toxicity. He has worked with over 5000 patients worldwide to receive results and give hope where others have lost it.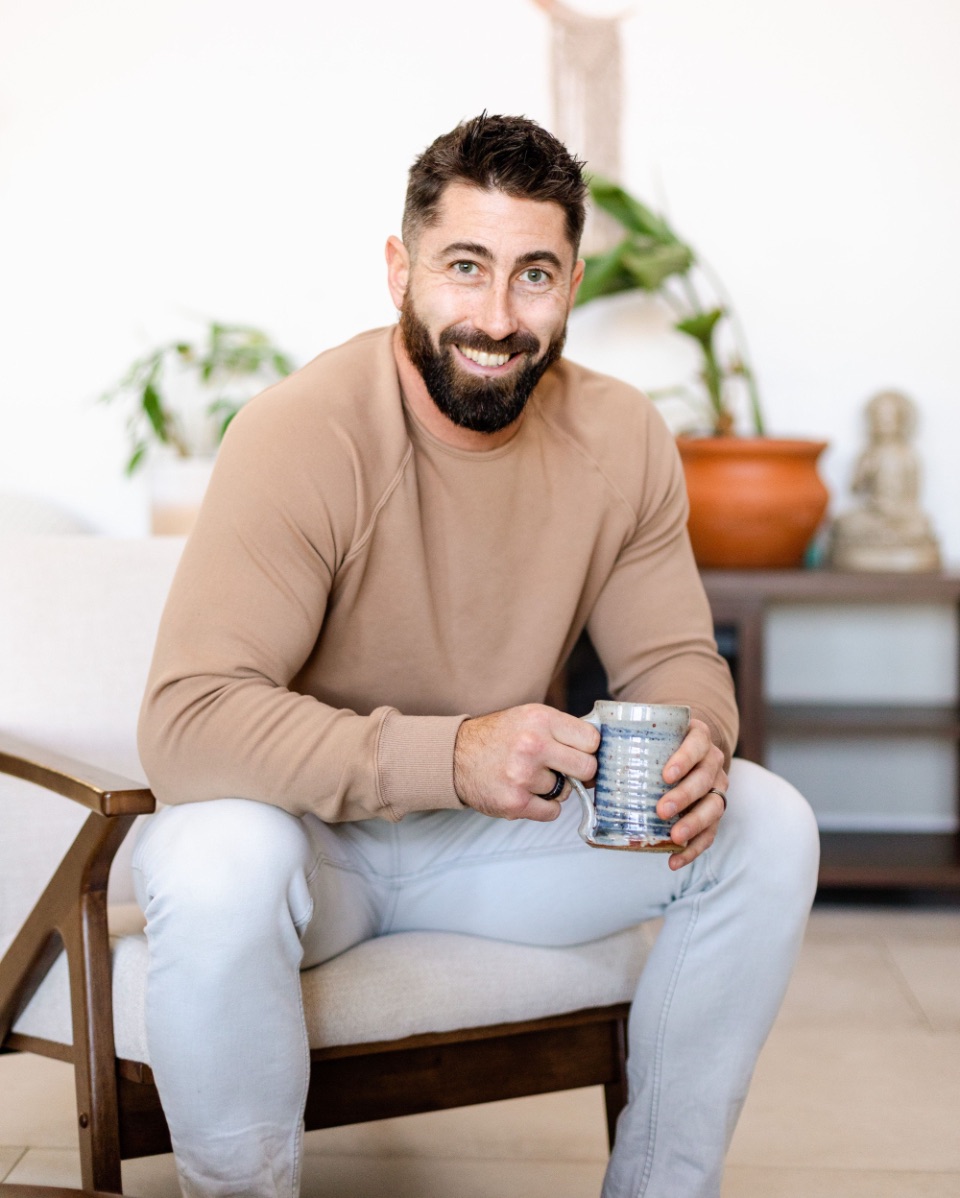 After spending weeks on antibiotics to fight off my leg infection in 2021, my stomach was trashed. I was completely void of probiotics, and on the cusp of some potential serious health issues if I didn't get it addressed. So the journey began to remove the bad sh*t and repopulate with the good stuff.
The rules of this journey included no gluten, dairy, alcohol. I've always eaten pretty healthy but dang this was going to be one hell of a test. Nine months later I can tell you it was one of the best things I've EVER done.
It helped repopulate my stomach with the good bacteria, but that wasn't the real victory. Since being forced to go gluten, dairy and alcohol free, I've never felt more clear, more sharp, never felt more energetic. A big shout out to Dr. Jacque Moser for helping me win this GI battle!
- Andy N
Being back on my holistic health game feels so good specially while prepping for baby. My doctor is awesome. His knowledge and his confidence in his abilities mixed with his down to earth way of communicating it all is why he was hands down my choice when I was looking for a new practitioner. I can't recommend this route of care enough. So many people treat symptoms and not the root cause of their issues. Doc Jacque works with you on total body support and care (gut, hormones, fertility, and more.)
- Alexa B